The Man Pie
•Dinners & Sides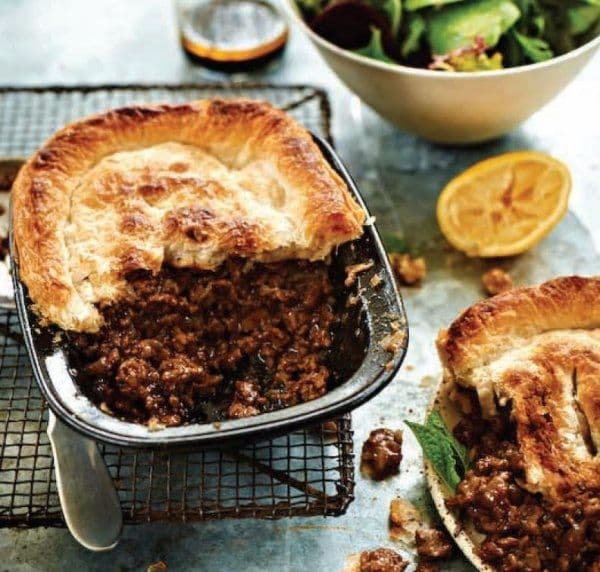 Is there anything more Aussie than a good meat pie?
Well, this is the Man Pie. It tastes unreal, and it won't add to your belt notches like other pies. Trust me, this recipe is one for the pool room!
The best part? You don't even taste the veggies you've piled in!
Serves 4

Ingredients:
- 1 sheet reduced-fat puff pastry
- 1 medium onion, finely chopped
- 400g lean beef mince
- 2 tablespoons oyster sauce
- 1 cup reduced-salt beef stock
- 2 tablespoons cornflour
Method:
1. Crank up the oven to 200'C and take the puff pastry sheets out of the freezer to thaw.
2. Heat up a frying pan and spray lightly with cooking oil. Cook the onion, stirring until softened, then add the mince. Cook until brown, breaking up any lumps.
3. Combine the oyster sauce and beef stock, and add to the mince mixture. Reduce the heat and simmer for approximately 10 minutes, or until the liquid has reduced by half.
4. In a cup, mix the cornflour with 2 tablespoons warm water. Add this to the mince mixture, along with pepper to taste, and continue stirring for approximately 2 minutes as the sauce thickens. Remove from the heat and allow to cool.
5. Spray a large baking dish or pie dish about (about 450ml capacity) with cooking oil. Pile in the mince mixture and spread evenly. Make a lid with the sheet of pastry and press the edge onto the dish to seal. Cut three slits in the top, then bake for approximately 25-30 minutes, or until golden brown.
---
More in Dinners & Sides