Mexican Casserole
•Dinners & Sides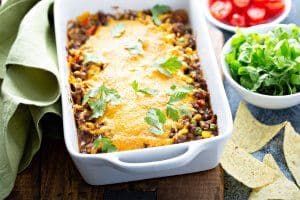 Ola Amigo, This is one of the easiest and most versatile recipes that you can whip up for you or the whole family.

If you want a kick then I recommend using fresh chilis and fresh jalapenos. That will definitely give you the kick you are looking for.

Prep time: 5 mins - Cooking TIme: 20 mins
Ingredients
500g Turkey Mince (use beef if you want to sub)
2 Tablespoons Ground Cumin
2 Tablespoons Ground Chili Powder
1 small white onion minced
2 Garlic Cloves minced
1 cup Mild Salsa
1 cup No Sodium Canned Corn rinsed and drained
1 cup No Sodium Canned Black Beans rinsed and drained
1 cup Shredded Cheese
Coriander for garnish
Pickled Jalapenos for garnish or spice
1 Lime juiced
1 Tablespoon Olive oil or oil
Method
Preheat the oven to 180 degrees celsius.
In a large pan heat the oil over medium heat. Once hot add the garlic and onions with a pinch of salt. Let this cook for about 2 minutes stirring once or twice. Add the 1 Tablespoon of cumin and 1 Tablespoon of chili powder and stir
Season the turkey mince with 1 Tablespoon of cumin, 1 Tablespoon of chili powder, 1/2 tsp salt, and few pinches of black pepper. Add this to the pan and break up the turkey mince. Let this cook stirring occasionally until the turkey is cooked
In a heatproof casserole pan add a layer of salsa. Top with the cooked turkey mixture. Now add the black beans and corn and gently mix. Finish with more salsa and topping it with a layer of cheese
Pop the casserole into the oven and let this bake for 12-15 minutes until it is all warm and the cheese has melted.
Serve hot and garnish with fresh lime juice and cilantro. Enjoy!
---
More in Dinners & Sides