Healthy Chicken Parmigiana
•Dinners & Sides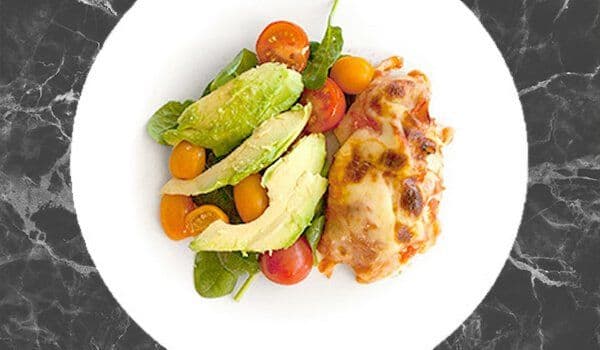 The Chicken Parmi is an Aussie pub favourite, but the one you get from the local is probably not doing your weight any favours. Here's a simple and healthy Parmigiana recipe for you to make at home - and you can eat guilt-free!
Ingredients
1 chicken breast (approx. 150g)
1 slice lean ham
1 tablespoon reduced-salt tomato paste
¼ cup low-fat grated cheddar cheese
1-2 cups of 'free' veggies or salad – fresh or frozen
Method
Preheat oven to 180°C.
Flatten chicken breast with your fist or mallet.
Lightly spray a baking tray with cooking oil put chicken on tray.
Spread tomato paste over the chicken then cover with ham.
Sprinkle a handful of cheese over the top. Stick the tray in the oven and cook for 25–30 minutes, or until the chicken is cooked through.
Serve with side salad or veggies.
Adam's Tip: Feel free to go for the snap-frozen veg option here - they are as healthy as a fresh option with the added benefit of being cheaper and lasting longer.
---
More in Dinners & Sides