Chicken & Spinach Omelette
•Breakfast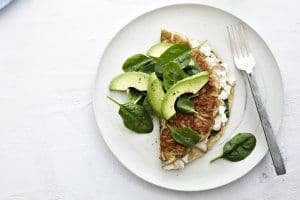 Never mind which came first, get your chicken and your eggs in this easy protein-packed breakfast.

Serves 1
Ingredients
2 handfuls baby spinach leaves
2 eggs
2 tablespoons reduced-fat cottage cheese
100g cooked lean chicken breast, chopped
1/4 avocado, sliced
Method
Chop half the spinach and put it in a bowl, then crack in your eggs and add a tablespoon of water and a little salt and pepper. Beat with a fork until well combined.
Heat up a non-stick frying pan over medium heat and swirl to coat. Cook for 1 to 2 minutes or until almost set. Top half the omelette with the cottage cheese and chicken, fold over to enclose the filling and then slide out onto a plate.
Serve with the avocado and remaining spinach on the side.
Stats
Protein 49.1g
Carbs 2.3g
Sugar 2.3g
Fat 20.9g
---