One look from his wife and David knew he had to do something.
David Williams, 53, from Gympie Qld
How I Got Here.
I was always a skinny kid growing up but did a bit of gym work in my 20's Thought I was fairly fit and I also smoked. 6 years ago I finally gave up smoking after being on the smokes for almost 30 years.

Of course, as most people do after quitting, I started eating more but not healthy food. Soft drink every day for lunch and dinner and in-between.

My wife would always make a side salad with dinner but I never touched it. Went for chips, cream biscuits and chocolate for snacks and not touch any of the fruit.

Before you know it I started to run out of breath quickly and even had trouble bending day to do my laces! Before I knew it I was over 97kg and my son had a name for my big belly….Travis! I thought, oh well that's how I am now.
Getting Started.
One day when I came inside from the pool and few bourbons, belly popping out, my wife gave me a look of which I took as disgust (but she said it wasn't) That's when I realized that I had to do something about it. I never had to diet before so I wasn't too sure what to do.

I had seen some Man Shake stuff on facebook and decided to look into it. The first week of having the shakes I lost just over 3kg and thought this stuff is working.

The shakes are so easy and convenient I just have it for breakfast and take 2 scoops in my shaker to work for lunch and mix it there. I like to mix and match my flavours but anything with chocolate is my favourite!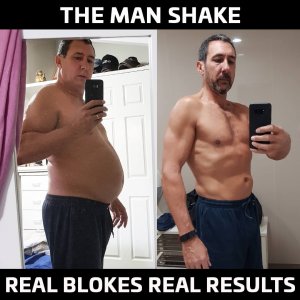 Since starting The Man Shake I have lost a total of 24kg.
How I did it.
I started walking every morning and looked up Adam's challenge videos on youtube and started to do them. It was a real struggle at first, but as the weight dropped off and my fitness level began to get better I found it getting easier.

I decided I wanted to kick it up a level and took on a couple of the man challenges and within 3 months I lost 17kg! Christmas and the new year came around but I still had my shakes when I could and found them so easy and convent.

I finally got to my goal weight of around 73kg in June.
The road ahead.
Now that I've lost weight I feel so much healthier and fitter than ever before and now started to go to the gym with my son. I find I don't get tired during the day anymore and it's easy keeping with the healthy eating.

I still have shakes for breakfast and lunch, though I beef the breakfast one with oats, mixed berries, and the odd banana. I also enjoy a good cheat meal and a drink on a weekend.

I would highly recommend the Man Shake to anyone who wants to lose weight and keep it off. I was certainly skeptical at first, but it just works and the taste is awesome! It's so easy to use and if you stick with healthy food chooses in-between, you will lose the weight!!