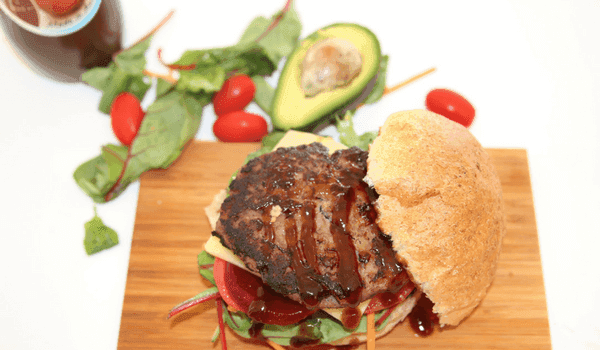 Serves 2
Ingredients
2 turkey patties (approx. 150g per person) or 300g turkey mince
handful lettuce
½ cup grated carrot
2 slices tomato
2 slices beetroot
1 slice cheese (optional)
1 teaspoon BBQ sauce (or sauce of your liking)
1/2 avocado
2 multigrain rolls
If making patties from scratch:
300g turkey mince
1/4 cup breadcrumbs
1 teaspoon BBQ sauce
In a bowl mix all together with your hands and press out to make your 2 patties
Method
Heat up a non-stick frying pan and spray with cooking oil.
Place turkey patties on pan and cook for approx. 10 minutes, turning a couple of times to make sure it's cooked through.
While patties are cooking, cut the roll in half and spread one half with avocado.
Put all salad stuff on the roll and place turkey patty on top.
Add BBQ sauce and serve.
---